Dr. James C. Robbins
(Owner)




The Grabill Veterinary Clinic is owned and operated by Dr. Robbins. He has been practicing veterinary medicine for both small and large animals since 1984. He is a graduate of Purdue University's School of Veterinary Medicine. His practice includes both small and large animals. Dr. Robbins has been married now for 25 years. He has four beautiful children: Jessica, Jordan, Janiece and Jacob and "Jasmine", a Jack Russel Terrier. Recently a grandbaby has been added to his family.
---
Debra K. Heller
(Office Manager)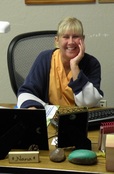 Debra (Deb) has been working with Dr. Robbins since 1986, as his office manager. She resides in Grabill with her husband, Steve, and has two grown children, Rev. Lance (Stephanie) Witham and Christopher Heller, as well as her granddaughters Riley and Presley and her beloved dog "Tucker". Her greatest pleasure is derived from singing at her church, as well as spending as much time as she can with her family and friends at their cottages in Canada. She feels that the entire staff is more like extended family rather than simply co-workers, and hopefully that translates to our clients. She truly believes that, "It continues to be an honor and a privilege to work in the veterinary field."
---
Desi Sisson
(Inventory Manager)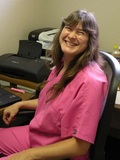 Desi has been with Dr. Robbins since 1987. Initially she was a veterinary assistant and then she became our inventory manager. Desi is an extremely hard worker. She and her husband have taken over their family farm, so between her full time job here at the vet and the farm there is not too much extra time in her day. However; if she gets a day off she really enjoys to hunt, fish and ride her four-wheeler. She has two German Shepherd's "Ricky" and "Yukon" as well as a cat named "Trixie."
---
Barb Chaney
(Supervisor)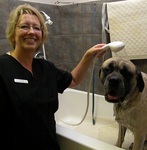 Barb started with the Grabill Veterinary Clinic in June of 1998. When she is not at the clinic she stays busy with her Collie "Gavin", her cats, "Porsche", "Nicholi", and "Vladimir". Also her horse "Sam" not to mention many chickens throughout the years. She enjoys gardening , reading and cross stitching. She also enjoys spending time with her husband of 39 years, her three kids and granddaughter.

---
Jamie Stone, RVT
(Registered Veterinary Technician)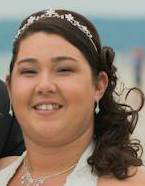 Jamie started at the clinic in March of 2013. She obtained an Associate of Applied Science as a Veterinary Technician degree from the Vet Tech Institute at International Business College. She graduated with honors in 2011 and was voted president of the Student Chapter of the Veterinary Technician Association (SVTA) during her time in school. She obtained full accreditation and licensing from the Indiana State Professional Licensing Association upon passing her state boards after graduating. Jamie's animal family include "Tyson" an 11 year old Staffordshire Bull Terrier, "Lennox" a 1 1/2 year old American Pit Bull Terrier, and "Mossimo" a 2 year old all black Domestic Shorthair. She has a beautiful 2 year old little girl and recently welcomed a little boy to her family. In her spare time, Jamie enjoys vacationing with her husband Gabe and now her daughter as well, spending time with her family, and doing what she can to help raise awareness and improving the image of Pit Bulls & "Bully" breeds. Her areas of extended knowledge are Nutrition and Canine Behavior.



---
Ally Todd, RVT
(Registered Veterinary Technician)

Ally joined the clinic in April 2015. She is a graduate of the Vet Tech Institute at International Business College. Her fur babies consist of "Cole" a Lab mix, "Goat" a tabby cat, "Charlie" a orange tabby, "Storm" a tabby cat, "Basil" a tortoise shell, and "Loomi" a black cat. In her free time, she enjoys reading, listening to music, walking the dogs, helping at her church, and spending time with family and friends.


---
Christina Gustufson
(Veterinary Assistant)


Christina is one of our veterinary assistants who has been with us since March of 2011. She graduated Mississinewa HS in Gas City, IN and went directly into veterinary technician school at Indiana Business College, where she earned an associate degree, in Veterinary Technology. She has 3 cats "Kassie," "Kirby," and "Rigby" as well as a Great Dane named ''Lady" and a German Shepherd named "Kaylee." In her spare time she enjoys spending time with her friends and family and volunteering at any local animal related events.

---
Leah Delagrange
(Veterinary Assistant)
Leah began working at the clinic in March 2015 as a veterinary assistant. She owns three dogs including two Australian Shepherd mixes named "Adelaide" and "Sydney" and a Dorkie (dachshund-yorkie mix) named "Ellie Mae." Along with owning pups, she has a few barn kitties, some chickens, and a couple ducks. In her spare time, Leah enjoys playing softball with her church league, brushing and playing with her dogs, and watching any musical or classic TV show.



---
Teresa Doehrman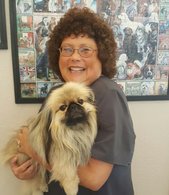 Teresa has been here at the Grabill Veterinary clinic for the past ten years. She has a 14 year old Jack Russell mix named "Sam." She enjoys singing, cleaning and camping during the summer. She aspires to live in Florida where it is warm and possibly build a house in the country.

---